Oil prices climbed after a drop in stockpiles at the biggest U.S. storage hub overshadowed an increase in nationwide crude inventories to the highest level since 1930.
West Texas Intermediate oil rose more than 20 percent from the low-point in the downturn earlier this month, meeting the common bull market definition. Supplies at Cushing, Oklahoma, the delivery point for WTI, fell by 771,000 barrels to 63.4 million last week, the first decline since October, Energy Information Administration data show. The industry-funded American Petroleum Institute reported a 660,000-barrel drop Tuesday. Total U.S. crude stockpiles rose 8.38 million barrels to 494.9 million.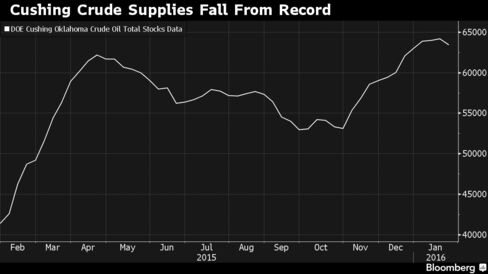 "The Cushing supply drop was bigger than the API reported and marked the end of an 11-week winning steak," said Bob Yawger, director of the futures division at Mizuho Securities USA in New York. "That trumps the nationwide build of more than 8 million barrels."
Crude is down about 13 percent this year as volatility in global markets adds to concern over brimming U.S. stockpiles and the outlook for increased exports from Iran after the removal of international sanctions. Independent American oil explorers are forecast to report 2015 losses totaling almost $14 billion amid the price collapse, according to data compiled by Bloomberg.
Front-month futures in New York had the biggest two-day rally in more than seven years on Jan 21 and 22 after closing at $26.55 a barrel on Jan. 20, the lowest since 2003.
WTI for March delivery rose 85 cents, or 2.7 percent, to close at $32.30 a barrel on the New York Mercantile Exchange. Total volume traded was 67 percent higher than the 100-day average.
Telegraphed Report
Brent for March settlement advanced $1.30, or 4.1 percent, to end the session at $33.10 a barrel on the London-based ICE Futures Europe exchange. The European benchmark crude closed at an 80-cent premium to WTI.
The API was said to report Tuesday that nationwide crude inventories surged by 11.4 million barrels last week. A 4 million barrel gain was projected by analysts surveyed by Bloomberg before the EIA report.
"This report was largely telegraphed," said Bill O'Grady, chief market strategist at Confluence Investment Management in St. Louis, which oversees $3.4 billion in assets. "The market has already priced in very high inventories." Bloomberg reports.
Production Decline
U.S. crude output dropped by 14,000 barrels a day to 9.22 million, the first decline since the week ended Dec. 4. That's down from a four-decade high of 9.61 million reached in June, weekly data show.
"Cushing is the delivery point for WTI and the drop there alleviates concerns" that the hub will run out of space, said Kyle Coope, director of research with IAF Advisors and Cypress Energy Capital Management in Houston. "Cushing supplies fell, production dropped the first time in seven weeks, overall supplies fell and demand increased."
Gasoline stockpiles climbed 3.46 million barrels to 248.5 million barrels, the highest since 1990. Supplies of distillate fuel, a category that includes diesel and heating oil, fell 4.06 million barrels to 160.5 million, the biggest decline since October 2014.
February gasoline futures slipped 0.1 percent to settle at $1.0457 a gallon. Diesel for February delivery increased 5.9 percent to $1.0252, the highest close since Jan. 8.