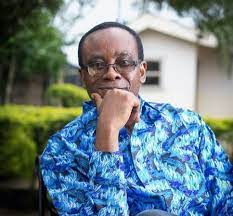 Mkpoikana Udoma
Port Harcourt — The Health of Mother Earth Foundation has berated the Senate Ad-hoc Committee on Crude Oil Theft, over their failure to name and exposed any corporate entities or individuals behind crude oil theft in the country, after embarking on about three months investigation on the menace.
This is as the report recently submitted by the Senate Ad-hoc Committee which investigated Oil Lifting, Theft and the impact on Petroleum Production and Oil Revenues fell short of the expectation of Nigerians, as it did not name any oil thieves.
The Committee led by its Chairman, Sen. Akpan Albert Bassey, made 14 recommendations, but could not name the corporate or individuals responsible for the oil theft in the country.
Reacting, Executive Director of HOMEF, Dr. Nnimmo Bassey, said failure of the Senate Committee to exposed oil theft, means the legislature was unready to promote transparency in oil and gas sector.
Bassey speaking exclusively to our correspondent, explained that the report submitted by the committee after their purported investigation was vacuous and should be rejected by the Senate.
The stakeholder and environmentalist, who wondered if the oil thieves were bigger than the Senate, likened the situation to government's failure to name terrorists, bandits and their sponsors, while the country bleeds.
"The Senate Committee's report is a sad embarrassment. Unless they had no access to the right information, the report suggests an unreadiness to contribute to promoting transparency in the sector but promotes distractions.
"The public expected the Committee to expose the oil thieves — a move that would stem the malfeasance in the sector. Naming the oil thieves would be a step towards halting the ongoing bleeding of the nation.
"Not naming the oil thieves indicates that the committee considers them too big to be exposed and to deserve more protection than the soul of the nation.
"Why on earth would a committee meet at this point in time, when everyone knows that oil and even gas are being stolen at industrial scale by persons or entities that are powerful enough to blind the eyes of those whose job it is to protect the nation's assets?
"The vacuous report of the Committee deserves to be roundly rejected by the Senate, because a lack of spine to name the thieves also suggests complicity by leaders who may wish to switch off the microphone at a time Nigerians need to be given some hope that impunity and economic violence can be tackled by our government structures.
"Their silence is as loud as has been the case with the unwillingness of government to name the sponsors of terrorist activities in the country."


This article was originally posted at sweetcrudereports.com