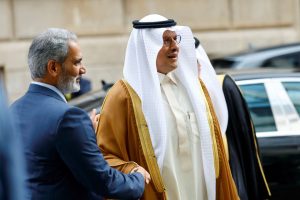 – Prince Abdulaziz: OPEC+ will remain a responsible regulator
– Blames IEA for volatility in 2022 on back of misguided data
– Says 'kicking the can' policies need to stop
Doha — Saudi Arabia's Energy Minister Prince Abdulaziz bin Salman said on Tuesday he would inflict more pain on short sellers and told them to watch out just days before a planned OPEC+ meeting to decide on future oil policy.
"Speculators, like in any market they are there to stay, I keep advising them that they will be ouching, they did ouch in April, I don't have to show my cards I'm not a poker player… but I would just tell them watch out," he told the Qatar Economic Forum organised by Bloomberg.
Short sellers are investors that bet on oil prices falling, and hence when an unexpected move by OPEC+ to cut production causes a rally, they are forced to close their positions at a loss.
Saudi Arabia, the world's largest oil exporter, and other OPEC+ producers announced surprise voluntary cuts in April that lifted prices after a slump driven by concerns that a banking crisis could impact demand.
Analysts at Standard Chartered bank said in a note this week that short speculative positions are now as bearish as they were at the start of the pandemic in 2020.
"We think the latest build-up in short positions significantly increases the probability of further production cuts when OPEC+ meets," the analysts said.
Brent prices were trading 1.3% higher at just under $77 a barrel at 1300 GMT, about $10 below their peak after OPEC+ announced the additional cuts in April.
OPEC+ members are due to meet on June 4 in Vienna to decide on their next course of action.
The April cuts were described as "inadvisable" by Washington, which had also been critical of the group's decision to cut production in October.
The minister said the alliance would continue to be proactive, preemptive and hedge against what may come in the future, regardless of any criticism.
"We should be brave enough to attend to the future without continuing the so-called 'kicking the can' policies, those policies that may allow us to fend the situation for this month, next month or the month after but with that we are losing sight of our intentions and our more important objectives," he said.
The Organization of Petroleum Exporting Countries (OPEC) and its allies, including Russia, known as OPEC+, would continue to be a responsible market regulator, the minister added.
He again blamed the Paris-based International Energy Agency (IEA) and its initial predictions for a 3 million barrel per day (bpd) fall in Russian production on the back of the Ukraine war for misleading the market.
"Look who did the most in trying to bring forecasts and data and projections that really created most of the volatility that we have had in 2022 and continue to do so?" Prince Abdulaziz said.
"There is an organisation called the IEA, I think they have proven that it really takes special talent to be consistently wrong."
The IEA did not immediately respond to a request for comment.
In its monthly oil market report last week, the agency upgraded its forecast for 2023 oil demand by 200,000 bpd to 102 million bpd, adding that the oil market faces a supply crunch in the second half of the year.
*Andrew Mills & Maha El Dahan; Editing: Alex Richardson – Reuters


This article was originally posted at sweetcrudereports.com