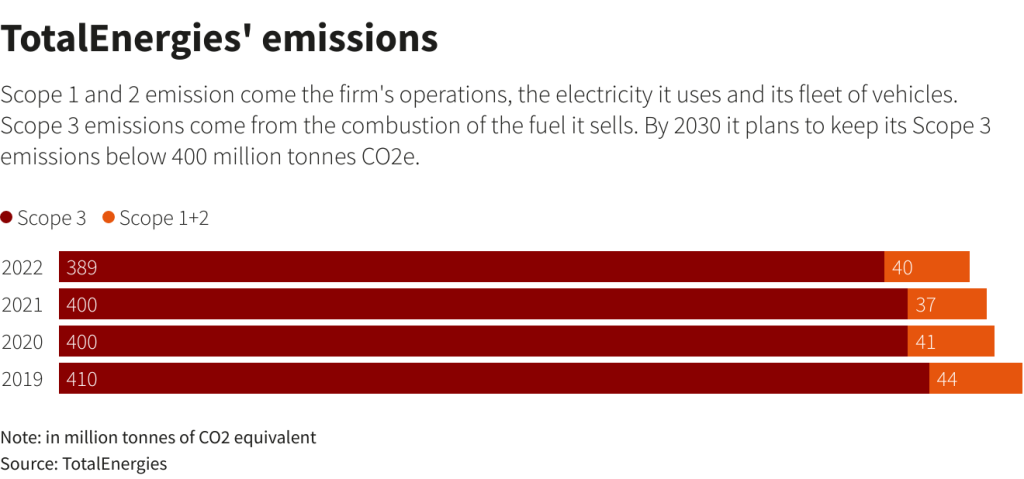 Paris — French riot police held back several hundred climate activists from the venue where oil major TotalEnergies (TTEF.PA) is due on Friday to hold its annual shareholder meeting.
Scuffles between police and protesters broke out briefly several hours before the meeting – where investors are expected to vote on green resolutions urging accelerate fossil fuel cuts – was due to get underway.
"The science is clear, but Total is ignoring it," read a banner held up by demonstrators, including Greenpeace activists.
Climate activists are intensifying demands on oil companies for tougher emission-cutting targets, with protesters trying to storm the stage of Shell's shareholder meeting earlier this week and also disrupting BP's AGM last month.
Investors are set to vote on a green resolution urging accelerated cuts under the French oil major's greenhouse gas emission reduction programme. The resolution was put forth by climate activist group Follow This and 17 institutional investors with a total 1.1 trillion euros under management.
TotalEnergies' board opposes the resolution, which calls for the company to commit to emissions cuts by 2030, and to include Scope 3 emissions created post-sale when the fuels are eventually burned by customers, such as in planes or cars.
The French company will instead urge investors to approve its own internal climate plan, which pledges more modest emissions cuts at its own facilities and does not envisage a major overall reduction in planet-warming gases by 2030.
Scientists say the world needs to cut greenhouse gas emissions by about 43% from 2019 levels by 2030 to stand a chance of meeting the Paris Agreement's goal of keeping warming to less than 2 degrees Celsius (3.6 Fahrenheit) above pre-industrial levels.
*Benjamin Mallet & America Hernandez, editing: Silvia Aloisi & Richard Lough – Reuters


This article was originally posted at sweetcrudereports.com